Cost Reductions, Improved Efficiency and Simplified Conferencing with Microsoft Lync and AudioCodes Mediant Media Gateways
Background
Broward College, previously known as "Broward Community College", is a higher education college located in Fort Lauderdale, Florida, U.S., and part of the Florida College System. Established in 1959, the college was founded as part of a move to broaden Florida's two-year community college system. In 2008 it adopted its current name, reflecting that it is one of the schools designated a "state college", meaning it can offer a greater number of fouryear bachelor's degrees than traditional community colleges.
Today Broward College is the sixth largest college in the US with 65,000 students on three main campuses and eight satellite campuses.
Challenges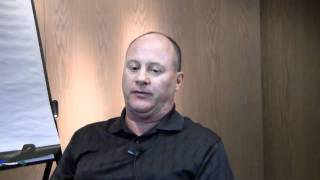 Microsoft Lync Case Study - Broward College
Kenneth Libutti, Assistant Director of Systems Administration at Broward College discusses their migration to Microsoft Lync.
Like many colleges, administrator, educators and other staff need to regularly hold conference calls to collaborate on a wide range of administrative issues. The college's goal is to maximize the effectiveness of the staff, minimizing physical travel between various college campuses and reduce downtime. To facilitate this, the college had implemented a stand-alone legacy conferencing system, using telephone lines from the college PBX systems to allow users to participate in ad-hoc conference calls.
Talking with Kenneth Libutti, Assistant Director for Broward College in Fort Lauderdale, "We wanted to eliminate six different communications solutions from different vendors of webseminars services, conferencing services and others. Our long-term goal is to replace the NEC private branch exchange (PBX) with Lync or open industry-standard session initiation protocol (SIP) type PBX."
The challenges faced by Broward College were to provide expansion of existing secure instant messaging (IM), a common conference tool for all College Staff, eliminate travel for most meetings (i.e., standing college committees, Senior Staff) and provide a collaboration tool that would interface with the College's new Microsoft Office, Outlook/Exchange and SharePoint infrastructure.
However, as effective as telephone conferencing was, it was clear that existing time division multiplexed (TDM) communications equipment at the college was not going to help achieve their goals and that the college could benefit immensely from Unified Communications (UC), replacing the legacy conferencing platform and eventually also replacing the PBXs. Additional savings will be realized by eliminating licenses for three different conference platforms.
Solution
In an effort to implement UC, Broward College initially selected Microsoft Office Communications Server to facilitate their need for IM and presence, and based on their needs for conferencing, soon upgraded to Microsoft Lync.
To enable off-site or mobile callers to participate in conference calls, the college integrated an AudioCodes Mediant 1000 Media Gateway into their Microsoft Lync network. The media gateway provides digital call processing, connectivity and network management between TDM telephone circuits and the SIP-based Lync Unified Communications software.
Success & Future Plans
Ken commented that "The pilot with Microsoft Lync with full audio-visual conferencing was a success and the results have been outstanding. The audio quality with Lync conferencing and an AudioCodes media gateway is better than we have ever had before. We will now be migrating all users into Lync and eliminating the legacy conferencing system and using only the Lync conferencing system, connected by the AudioCodes Mediant Media Gateway."
Ken summarized efforts by saying "all faculty and staff will have access to new Lync conferencing and they are absolutely loving full integration with Microsoft Outlook with excellent audio and video quality as well as embedding PowerPoint and other desktop sharing images. Our support staff really likes the desktop sharing for remote support and assistance. Also, we have already tried Polycom VoIP conference phones for conference rooms and look to eliminating all conferencing from the NEC PBX. The reason why we looked at AudioCodes for audio conferencing was the tight integration with Lync including FAX, and that pricing was relatively inexpensive." Of importance to any customer Ken noted, "both sales and support staff from AudioCodes have been excellent. In addition, the College is now looking forward to utilizing Lync for employment candidate interviews as well as expansion of our Cyber-Advising initiative to reach our online students. AudioCodes SBA-survivable branch appliances (designed for unique branch office conditions) and Lync for other locations is also being considered since the College is working on expanding to several new locations." The SBA will provide autonomous Lync infrastructure to these locations should a backbone link go down.