Introduction to VocaNOM
VocaNOM is an intuitive internal communication solution, allowing medium to large enterprises to communicate in the most effective, simplified way. VocaNOM enables employees to interact with one another using their voice alone, simply by saying an employee's name.
The VocaNOM solution seamlessly integrates with AudioCodes leading IP Phones*, as well as an easy deployment over any PBX or IVR.
Effective day-to-day communication will not be complete without a solution for those who are on the go. Aside from voice dialing over any phone line, the VocaNOM Mobile Application allows you to call, text, WhatsApp or email any organizational contact from everywhere, at any time.
* Available on 405HD, 430HD, 440HD, 445HD, 450HD, C450HD and Huddle Room Solution (HRS) devices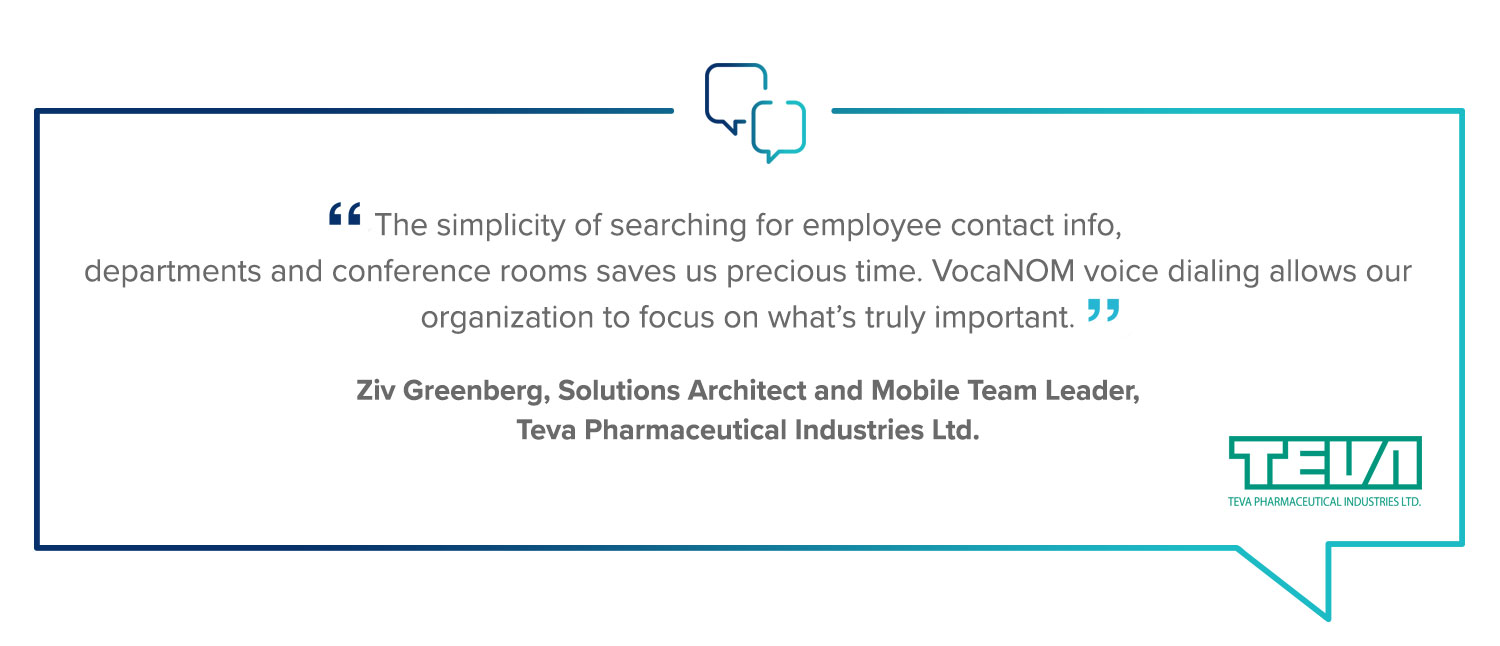 Why VocaNOM?
More than 90% accuracy in contact name recognition & voice-driven transfer rates
Easy and immediate access to full details of company contacts by simply saying an employee's name
Boost work productivity and reduce contact search time with voice-driven dialing
Always know who's calling by using the VocaNOM Organizational Caller ID (available via the VocaNOM app)
Call traffic analytics via the VocaNOM Web Management Interface
Technical Highlights
State-of-the-art DNN Voice Recognition Engine with high accuracy rates
Full support in Hebrew, English (U.S.) and German (DE) names, last names and positions- with a wide coverage of dialects and accents
Available for easy cloud-based integration (AWS) or as an on-premise deployment
Seamless integration with AudioCodes IP Phones or any organizational PBX or IVR system
Easy automatic contact details synchronization using Active Directory or CSV
VocaNOM Mobile App support for iOS & Android with pure offline voice recognition capability
VocaNOM Web Management Interface allows friendly solution management, configuration and monitoring