Überblick
AudioCodes One Voice Operations Center (OVOC) ist eine web basierte Managementlösung für Sprachnetzwerke und kombiniert die Verwaltung von Sprachnetzwerkgeräten mit der Kontrolle der Erfahrungsqualität in einer einzigen, intuitiven, web basierten Anwendung. OVOC ermöglicht Administratoren die Umsetzung einer holistischen Vorgehensweise zum Management des Netzwerklebenszyklus, indem es alltägliche Aufgaben vereinfacht und bei der Fehlererkennung durchgehend − von der Erkennung bis zur Korrektur − Hilfestellung leistet.
Dank OVOCs gradlinigem GUI-Design können Systemadministratoren den vollständigen Lebenszyklus von VoIP-Geräten und -Elementen von einem einzigen zentralen Standort aus verwalten, was zu Kosten- und Zeiteinsparung führt. Aufgaben, die normalerweise komplex und zeitaufwendig wären wie z. B. die Analyse von zugrunde liegenden Ursachen, die Hinzufügung neuer Geräte zum VoIP-Netzwerk und die Durchführung von Massensoftware-Updates lassen sich jetzt schnell und unkompliziert erledigen.
Erfahren Sie mehr über die NEC-MasterScope-Integration für Sprachqualität anhand der Kontrolle von Datenschichten für OVOC-Advanced-Kunden. 
Vorteile
Rationalisierung der Netzwerkverwaltung und Qualitätsüberwachung in einer einzigen Anwendung
Verbesserung der Systemverfügbarkeit durch genaue Fehlerbehebung und Ursachenanalyse
Höhere Effizienz durch zentralisierte Konfiguration und Bereitstellung
Gewinnen Sie intelligente Einblicke in Netztrends und -leistung, um Planung und Design zu unterstützen
Microsoft Skype für Business-Umgebungen werden unterstützt
Verfügbar für den Einsatz bei Cloud-Diensten wie Amazon Web Services (AWS) und dem Azure Marketplace
Features
Hochgradig skalierbar zur Unterstützung tausender Geräte
Multi-Tenancy-Unterstützung für gehostete und verwaltete Umgebungen
Automatische Bereitstellung und Konfiguration für das gesamte AudioCodes-Portfolio
Unterstützung von IPV6 und IPV4
Echtzeit-Überwachung der Anrufqualität und Ursachenanalyse
Integration mit der AudioCodes Routing Manager (ARM)-Sitzungs-Routing-Lösung
Zentralisierte Berichterstattung und Wissensverteilung
Unterstütze Geräte

Mediant 500/ 600/ 800/ 850/ 1000/ 2000/ 2600/ 3000/ 4000/ 9000
Mediant VE and Mediant SE SBC
400HD IP phone family
Jabra headsets and speakers
MediaPack analog gateways
Skype for Business CloudBond 365, CCE and SBA

Systemeigenschaften

Supported on VMWare, HyperV and Bare Metal HW provided by AudioCodes
Multi-tenancy
High availability
Full scheduled backup and restore
Amazon Web Services (AWS)
Azure Marketplace

TMN-Standards-Support
ITU-T recommendation M.3010 series; FCAPS functionality
Benutzeroberfläche

Network page for immediate status and alarms handling
Topology, schematic and geographical views
Aggregated information with single click drill-down
Advanced RCA navigation features
HTML 5.0

Sicherheit

Security management complying with T1M1.5/2003-007R4
Local user management
RADIUS and LDAP authentication
Activity journal
Fully secured network interfaces

FCAPS-Funktionalität

Fault management
Configuration and provisioning
Administrative support
Performance management
Security functions

Anrufüberwachung
Mean Opinion Score (MOS) (as specified by ITU-T recommendation P.800): Jitter; packet loss; delay (or latency); echo, call quality alerts, call details, call trend statistics, call SIP flow diagram
Bereitstellug und Konfiguration

Zero-touch installation
Manual configuration
Single sign-on to device web interface
Mass operations

Fehlermanagement

Device status monitoring
Alarm and state management complying with ITU X.731, X.733
Context-sensitive current and history alarms with various filtering and search options

Berichte

Network (per device/link)
Trends
Top users

Nutzer

Connection to the Active Directory
End users' satisfaction list
End users' satisfaction dashboard
Contact end users directly from OVOC

Northbound-Interfaces

Alarm forwarding via SNMP/Mail/Syslog
Full Management via REST API
| Paket | Gerätemanagement | Qualitätsüberwachung | Berichtswesen | Microsoft Teams Monitoring |
| --- | --- | --- | --- | --- |
| OVOC Basic | korrekt | - | - | - |
| OVOC Advanced | korrekt | korrekt | korrekt | korrekt |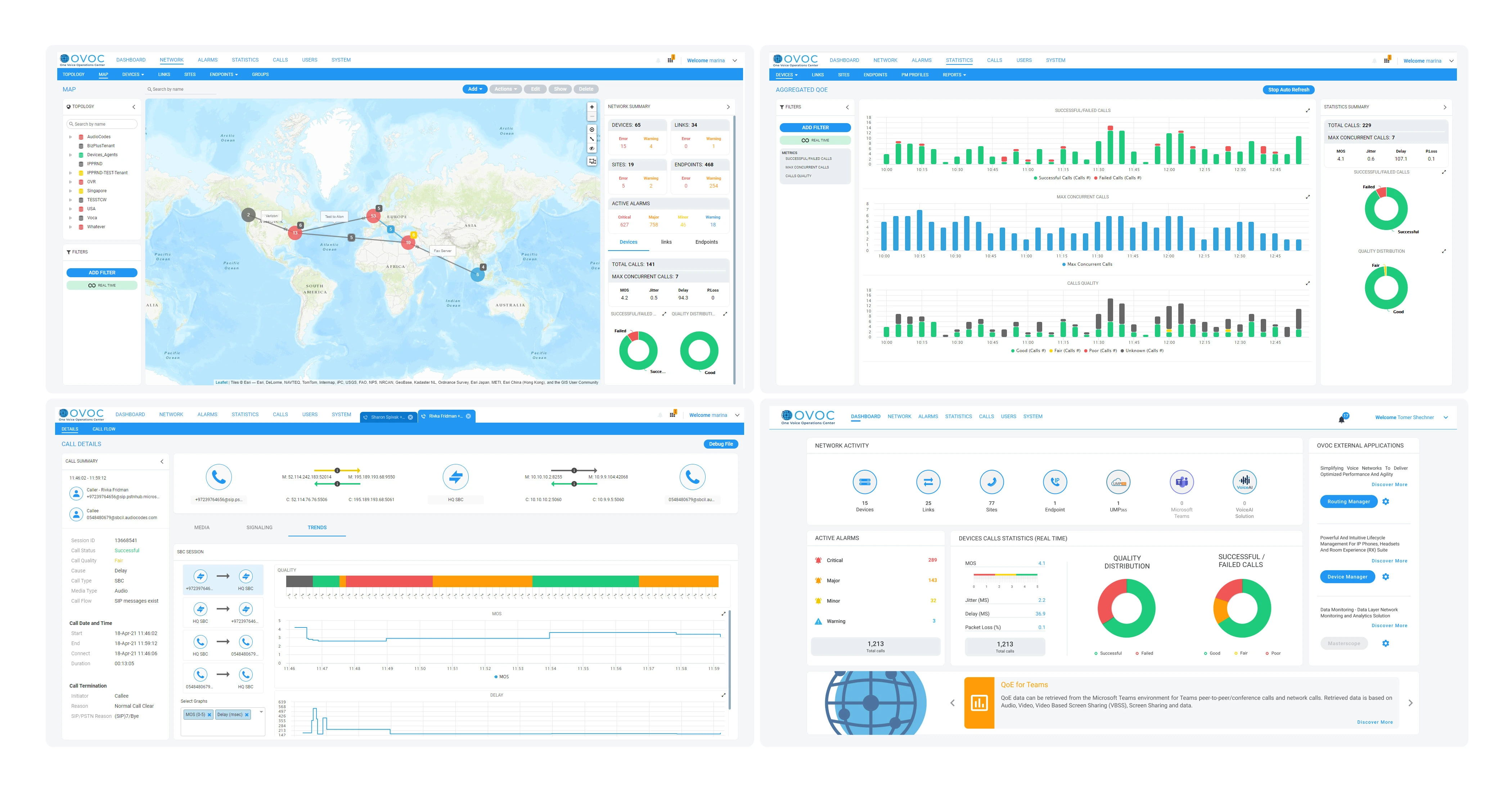 AudioCodes OVOC voted #1 in management and quality monitoring platform for Contact Centers by 2022 report
Looking for a UC Management Application? OVOC Voice Network Management System is Your Key to Success!
AudioCodes One Voice Operations Center (OVOC) Supports End-to-End Microsoft Teams Voice Quality Monitoring
Monitor Microsoft Teams calls voice quality via a single screen!