Übersicht
Der internationale Contact Center Markt erweitert sich in rapider Weise aufgrund des stärkeren Einsatzes neuer Technologien wie Chatbots, mobiler Anwendungen und Cloud-Lösungen. Doch um von diesen unvergleichlichen Gelegenheiten im vollen Umfang zu profitieren, müssen die Contact Center von heute in der Lage sein, ein erstklassiges Niveau persönlicher Dienstleistungen anzubieten, wodurch sich die Probleme ihrer Kunden bei stets gleichbleibender hoher Sprachqualität schnell lösen lassen.
AudioCodes bietet eine breite Palette innovativer Sprachlösungen, mit denen jede Art von Contact Center mühelos das Potenzial der digitalen Transformation ausschöpfen und schnell zu einem modernen Contact Center werden kann - und das mit minimalen Investitionen. Diese integrierten Lösungen, die bereits in Hunderten von Contact Centern auf der ganzen Welt verwendet werden, unterstützen alle Einsatzarten, ganz gleich ob on-premises oder in der Cloud, um auf einfache Weise − ganz gleich, wo man sich gerade befindet und auf jedem beliebigen Sprachkanal − Verbindung zu Kunden herzustellen, einschließlich per Click-to-Call von Web- und mobilen Anwendungen.
AudioCodes Lösungen für innovative & intelligente Contact Center umfassen:
Interaktive KI-Frameworks
Arbeiten und Verbinden von überalll aus
Agenten-Endpunkte
Anrufkonnektivität bei allen Netzwerkarten
Fortschrittliche Verwaltungstools
AudioCodes ist stolz darauf, Partner von führenden Namen im Bereich der Contact Center Systeme zu sein – von Genesys, Avaya und anderen. Die AudioCodes Produkte werden ständigen Interoperabilitätstest unter Verwendung der Systeme unserer Partner unterzogen, um eine nahtlose Integration und hohe Kundenzufriedenheit zu erlangen.
Vorteile
Ein einziger Anbieter für alle Sprachanforderungen
Effizienzsteigerung und Kostensenkung
Überlegenes Kundenerlebnis
Befähigung von Agenten, die zu Hause arbeiten
Einfache Verbindung, um von überall aus zu arbeiten
Features
Verbinden Sie Kunden auf jedem Sprachkanal
KI-basierte Technologie für Chatbots, IVR und Assistenz
Reibungslose Integration in jedes Contact Center
Kristallklare Sprachqualität
Contact Center für das digitale Zeitalter
Contact Center für das digitale Zeitalter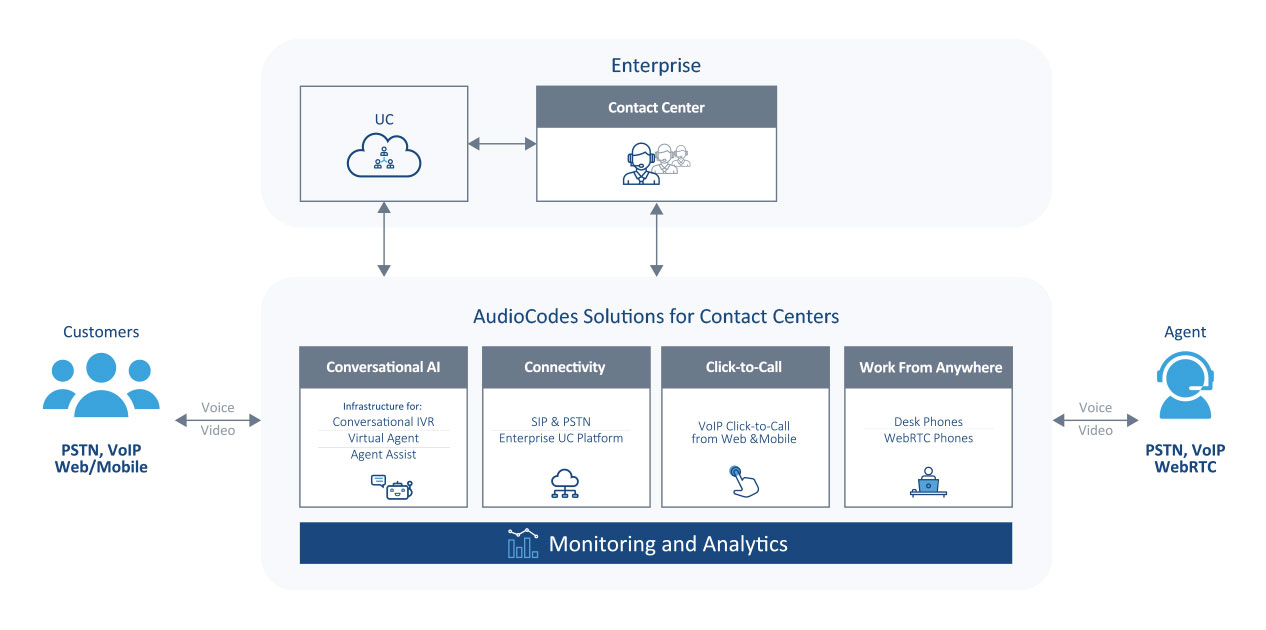 Our Experts Are Ready To Help!
Get the best solution for your organization and specific use case. Our experts can advise on products, compatibility and any aspect of contact center voice deployments.