Descripción general
El mercado internacional de los centros de contacto se está expandiendo rápidamente debido a la creciente adopción de nuevas tecnologías como chatbots, aplicaciones móviles y la nube. Pero para aprovechar al máximo estas oportunidades inigualables, los actuales centros de contacto deben ser capaces de ofrecer un nivel superior de servicio personal que resuelva los problemas de sus clientes con rapidez, garantizando al mismo tiempo que la calidad de las llamadas se mantenga alta en todo momento.
AudioCodes ofrece una amplia gama de soluciones de voz innovadoras que permiten a cualquier tipo de centro de contacto liberar sin esfuerzo el potencial de la transformación digital y convertirse rápidamente en un centro de contacto inteligente, todo ello con una inversión mínima. Estas soluciones integradas, que ya están potenciando a cientos de centros de contacto en todo el mundo, admiten todo tipo de implementación, ya sea on-premise o en la nube, para conectarse fácilmente con los clientes (sin importar dónde estén) en cualquier canal de voz, ​incluyendo click-to-call desde aplicaciones web y móviles.
Las soluciones para centro de contacto inteligente de AudioCodes incluyen:
Frameworks de IA conversacional
Trabajar y conectarse desde cualquier lugar
Puntos finales de agente
Conectividad de llamadas con todos los tipos de red
Herramientas de gestión avanzadas
AudioCodes se enorgullece de estar asociado con las principales marcas relacionadas con sistemas de centros de contacto: Genesys, Avaya y otros. Los productos de AudioCodes se someten a constantes pruebas de interoperabilidad con los sistemas de nuestros socios para garantizar una integración perfecta y una alta satisfacción del cliente.
Beneficios
Proveedor único para todas las necesidades de voz
Impulse la eficiencia y reducción de costos
Experiencia de uso superior
Empodere a los agentes que trabajan desde casa
Conectividad sencilla al trabajo desde cualquier lado
Características
Conecte clientes sobre cualquier canal de voz
Tecnología basada en AI para chatbots, IVR y asistencia
Integración sencilla con cualquier contact center
Calidad de voz cristalina
Contact Centers inteligentes para la era digital
Contact Centers inteligentes para la era digital
Contact Centers inteligentes para la era digital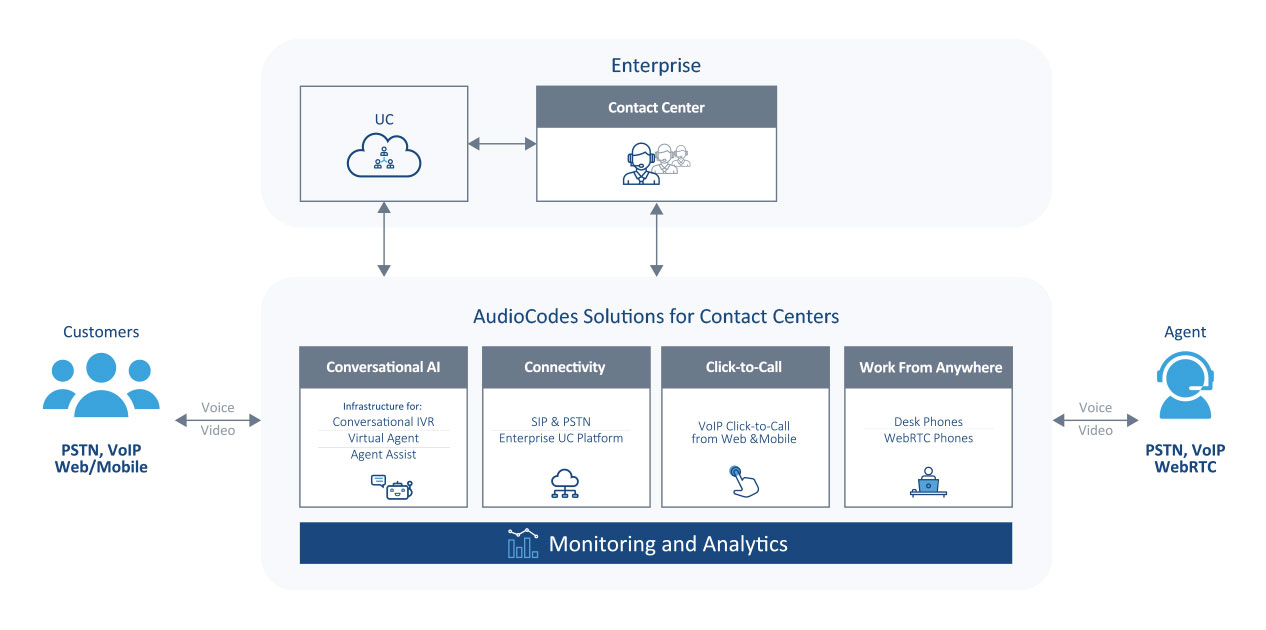 Our Experts Are Ready To Help!
Get the best solution for your organization and specific use case. Our experts can advise on products, compatibility and any aspect of contact center voice deployments.