Infonetics' second quarter 2014 (2Q14)

 

ESBC report

 

cites AudioCodes' growth from 1Q14 to 2Q14 at 35%, the largest of any vendor reported
In 2Q14, AudioCodes reached the #2 ranking among ESBC vendors with a 12.2% market share, up nearly double from 6.4% from the same period a year ago
AudioCodes achieved three consecutive quarters of growth in ESBC revenues

Enterprise SBC Worldwide Vendor Market Share by Quarter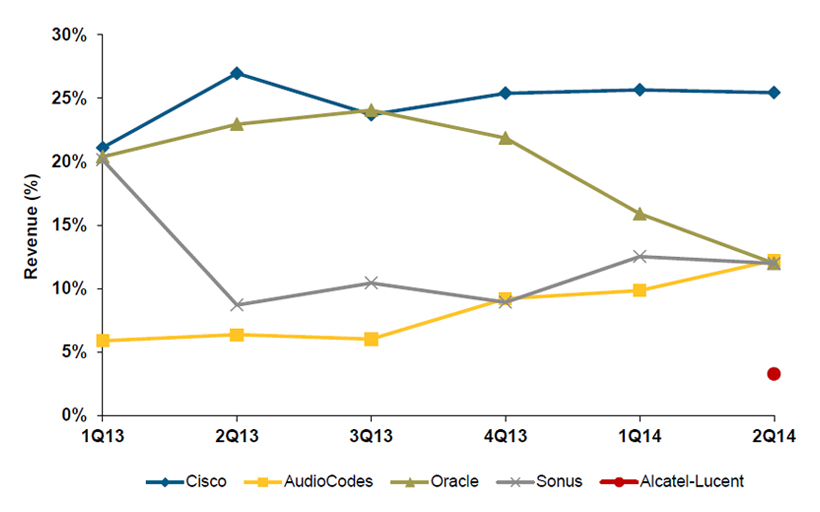 Source: Enterprise Session Border Controllers Quarterly Worldwide and Regional market share, size and forecasts: 2Q14. August 29, 2014.

Lod, Israel – September 9th, 2014 – AudioCodes (NasdaqGS: AUDC) Press Release
AudioCodes, a leading provider of converged voice solutions that enable enterprises and service providers to transition to all-IP voice networks, today announced that the recently released Infonetics Research report: Enterprise Session Border Controllers - Quarterly Worldwide and Regional Market Share, Size, and Forecasts: 2Q14 (August 29, 2014), cited AudioCodes as the vendor with the greatest growth during the quarter, 35%, and ranked the company as the number two ESBC vendor with 12.2% market share. AudioCodes close to doubled its market share from when reported in Infonetics Q2 2013 report (6.4%) to the current report, with three consecutive quarters of growth.
"AudioCodes offers the market a wide portfolio of uniform ESBCs," commented Diane Myers, Principal Analyst, VoIP, UC, and IMS for Infonetics Research. "Their integration with leading software vendors such as Microsoft, Genesys and BroadSoft is driving demand for the products."
AudioCodes ESBC Offering
AudioCodes' ESBCs are designed into the reference architectures of leading unified communications and contact centers solutions from Microsoft, Genesys, BroadSoft and others
ESBCs are part of AudioCodes comprehensive end-to-end voice networking solutions for enterprises
AudioCodes offers unique and price-effective high availability options (redundancy, survivability and resiliency) across its entire offering of SBC platforms
AudioCodes offers a comprehensive suite of SBCs, ranging from 5-25,000 concurrent sessions, and covering large enterprises and SMEs, as well as SMBs, which is the largest contributor of ESBC shipments according to the Infonetics report. All AudioCodes SBCs run the same software, with uniform interoperability, security, media handling functionality, and operational model. AudioCodes SBC portfolio addresses all SBC segments – SIP Trunk, Hosted and Access multi-tenant SBC. AudioCodes SBCs feature integrated QoE monitoring and dynamic voice optimization. The entire SBC family is uniformly and centrally managed by AudioCodes' One Voice Operation Center, a holistic life-cycle management system.
"We are pleased to have been recognized by Infonetics as a dominant player in the ESBC market," said Nimrod Borovsky, AudioCodes' VP Marketing. "The company has been investing significant efforts in its SBC offering over the past few years and the consistent growth in SBC revenues and market recognition demonstrates our success."