Overview
The global contact center market is rapidly expanding due to the increased adoption of new technologies such as chatbots, mobile applications and the cloud. But to take full advantage of these unparalleled opportunities, today's contact centers must be able to offer a superior level of personal service that resolves their customers' issues quickly, while ensuring that call quality remains high at all times.
AudioCodes offers a wide range of innovative voice solutions that allow any type of contact center to effortlessly unlock the potential of digital transformation and quickly become a modern contact center, all with minimal investment. Already powering hundreds of contact centers around the globe, these integrated solutions support all deployment types, whether on-premises or in the cloud, to easily connect to customers – no matter where they are – on any voice channel, including click-to-call from web and mobile applications.
AudioCodes' contact center innovation solutions cover:
Conversational AI frameworks
Work and connect from anywhere
Agent end points
Call connectivity with all network types
Advanced management tools
AudioCodes is proud to partner with the leading names in contact center systems – Genesys, Avaya and others. AudioCodes' products undergo constant interoperability testing with our partners' systems to ensure seamless integration and high customer satisfaction.
Benefits
Single provider for all voice needs
Drive efficiency and cut costs
Superior customer experience
Empower work-at-home agents
Easy connection to work from anywhere
Features
Connect customers on any voice channel
AI-based technology for chatbots, IVR and assistance
Smooth integration with any contact center
Crystal-clear voice quality
Contact Centers for the Digital Age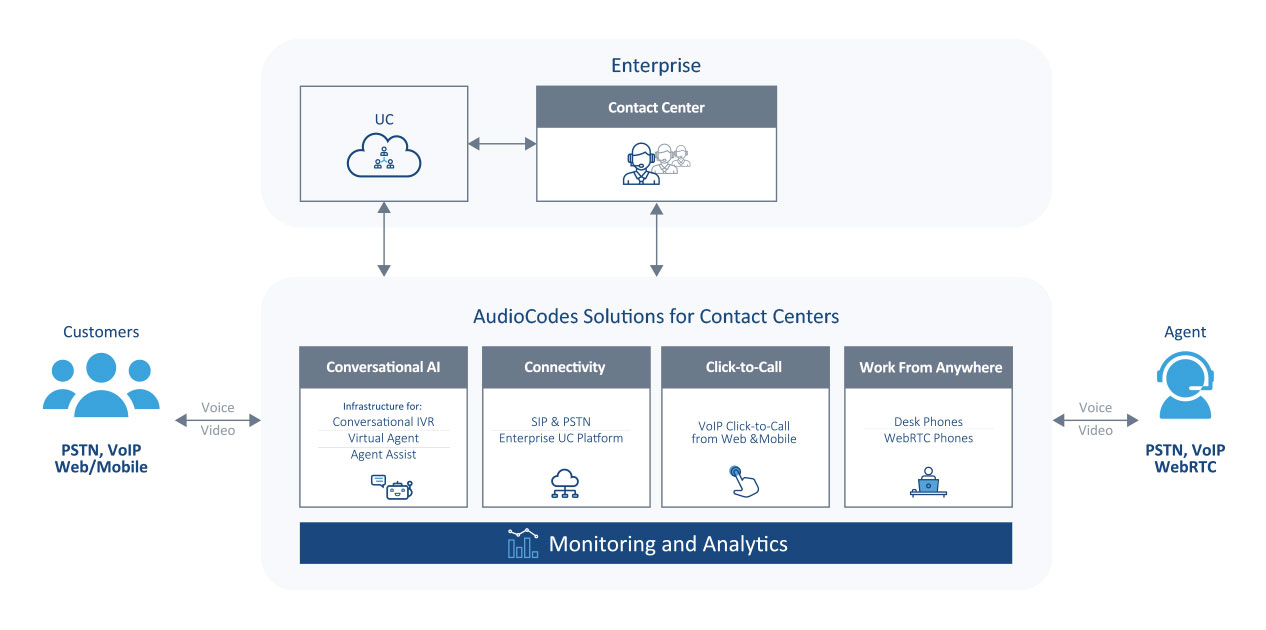 Our Experts Are Ready To Help!
Get the best solution for your organization and specific use case. Our experts can advise on products, compatibility and any aspect of contact center voice deployments.