Overview
The AudioCodes Room Experience (RX) Suite of products and solutions is designed to deliver a superior meeting room experience, featuring excellent voice quality and image clarity, ease of use of use, and seamless integration with IT management tools. Combining innovative software and products from leading unified communications solution vendors, the RX Suite ensures that voice-only conference calls and video-enabled collaboration sessions deliver continuous productivity. Regardless of seating arrangement within a designated meeting room on-site or in a remote location, the RX Suite ensures participants can hear and see what matters to get the job done.
The Room Experience Suite includes AudioCodes Meeting Insights, an enterprise solution that is designed to easily capture, organize and share corporate meeting content assets using AudioCodes state-of-the-art Voice.AI technology. Capturing information from multiple sources spanning both on-site and remote participants connected from multiple locations, Meeting Insights seamlessly delivers multi-modal and real-time access to key meeting moments, decisions taken and resulting action items. The result is a robust solution that presents crucial information when it matters most. 
AudioCodes RX Suite meeting room solutions are available for purchase via AudioCodes Flex, a subscription-based program future-proof deployment for years to come, regardless of personal choice of communication device. Flex customers benefit from early adoption of the latest technologies while minimizing the risk of ownership.
Learn more about the AudioCodes Flex program.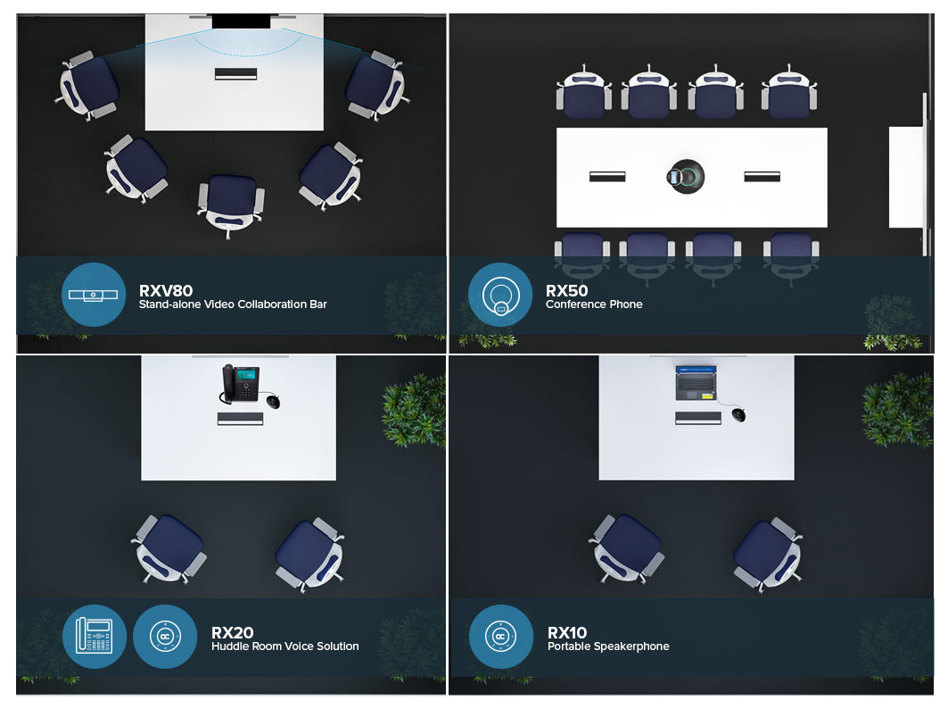 Benefits
Deliver continuous productivity with ehanced AI capabilities
Superior voice quality and video-enabled collaboration to support the meeting experience in any room
Integration with leading UC platforms
Operational IT efficiency with centralized management and monitoring
Products
Meeting Insights and Voice.AI – continuous meeting productivity solution
RX10 Portable Speakerphone
RX20 Huddle Room Voice Solution
RX50 Conference Phone
RXVCam10 Personal Webcam
RXV80 Standalone Video Collaboration Bar
RXV100 Video Collaboration Solution (coming soon)