Introduction to Voice.AI Gateway
Advances in artificial intelligence, machine learning and natural language processing have given a boost to the creation of naturally conversing chatbots.
Customer service chatbots help to increase customer satisfaction by eliminating waiting time. At the same time, they can save up to 30% in customer support services expenditure by automating simple and repetitive tasks.
AudioCodes' Voice.AI Gateway brings the most intuitive form of human communications to your chatbot service, supporting phone and WebRTC voice calls.
Voice.AI Gateway – Giving Voice to Chatbots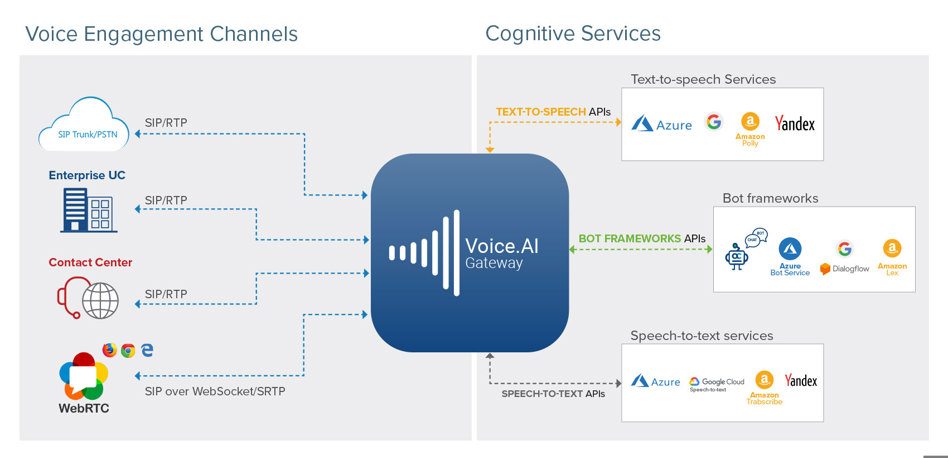 Why Voice.AI Gateway?
Gives your chatbot a unique personality with a human voice
Extends the reach of your chatbot using voice calls via PSTN, enterprise unified communications or WebRTC
Increases conversation rate, usability score and user experience using natural voicebot conversations
Reduces costs and increases efficiency by offloading repeating customer service requests
High voicebot success rate using optimized voice quality
Technical Highlights
Integrates with bot services developed on Azure, Amazon Web Services, Google Cloud Platform and other bot frameworks
Seamless interconnection with SIP and WebRTC voice communication services
Advanced call management, including transfer to agent, call recording, call disconnect and more
Comprehensive security against DoS/DDoS attacks, fraud and eavesdropping
Voice quality monitoring